Hello, friends! I hope you all enjoyed yesterday's Fashion Friday entry. I had a really good time making it! :)
As you may or may not know, the Disney College program centers around three aspects: living, learning, and earning. Today I'm going to talk about
living
.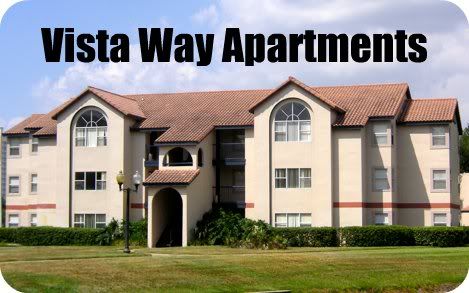 There are several frequently asked questions about housing.
Which Housing Complex Will I Reside?
According to the website, for some Cast Members, work location determines housing due to transportation. You will receive the name of your specific housing complex when you arrive.
What Size Apartment Will I Reside?
You will have a roommate that you share a bedroom with, at minimum. You can request to be a part of the Roommate Matching/Notification process if you would like to find a roommate prior to arrival. I would highly recommend doing this. It's where I got my roommate,
Michelle
(hey girl hey!). When you use the matching process, the following are considered:
+ Arrival/Departure dates
+ Gender
+ Whether the Cast Member is over or under 21 (those under 21 will be placed in dry apartments)
You will indicate your apartment preferences when you check in on your arrival day. Once you have a roommate, you will need to decide how many other people you would like to live with (there are two different apartment complexes and each apartment has one to four bedrooms). This decision should be discussed in advance but will be made officially upon check-in.
What Should I Bring With Me?
All the Disney apartments are fully furnished and come with basic appliances. According to the website, here are some things you may want to consider bringing with you:
+ Set of linens and bedding (twin-size sheets, pillow, blanket, towels, etc.)
+ TV, VCR, DVD player and a coaxial cable
+ Stereo (small)
+ Toaster
+ Coffee Maker
+ Phone card
+ Answering machine
+ Cordless phone (The phone provided in the apartment has a cord.)
+ Cell phone (Check with your current provider for coverage information.)
+ Alarm clock
+ Beach towel, suntan lotion and/or sunscreen
+ Camera and media storage cards or film
+ Casual clothing
+ Professional clothing (Please refer to the Disney Look Guidelines for assistance.)
+ Sweater or jacket
+ Dress shoes
+ Combination lock for the locker in your bedroom
+ Computer with Ethernet card
+ Original employment eligibility documents
+ Cosmetics and toiletries
+ Credit card and traveler's checks (if available)
+ Health insurance information
+ Personal medications, including prescription drugs, if needed
+ Writing paper, envelopes and pens
What Should I Leave At Home?
The following items are not allowed in the Disney apartments:
+ Candles (the fire codes prohibit you from burning them)
+ Small/mini refrigerators (there's a big fridge for everyone to share!)
+ Bicycles (no bike paths or storage facilities for them)
+ Pets of any type (including fish)
+ Weapons of any type (including pocket knives)
+ Hookah pipes (besides, it's gross, anyway!)
Last but not least, here is a walk through that I found on Youtube of one of the apartments, just so you can get a general idea of what's in store for you: