I'm here! I can't believe I'm finally here!
My adventure started on Thursday when my friend Josh and I set out at 7 am, my car stuffed to capacity with all my things. We drove all the way down I-95 from New Jersey to Orlando, stopping occasionally for food and gas breaks. We reached the area around 4 am, crashed, and then woke up at 10.
View from our hotel balcony
After that, we left the hotel, and met my super cool new roomie, Michele, and her friend for lunch at Rainforest Cafe in Downtown Disney.
Birds outside Rainforest Cafe in Downtown Disney
After that, Josh and I explored Lego World in Downtown Disney. We were kind of geeking out. It was great.
Dragon in the lake outside Lego World in Downtown Disney
We then headed for the Kennedy Space Center. We got to see lots of really great, nerdy, space-y things, and we went on a really amazing simulator.
What Josh and I would look like as astronauts
After our adventures through space, I dropped Josh off at the airport and met my roommate and a bunch of people from our program at Downtown Disney for ice cream and dancing. It was a lot of fun, and I met some really great people.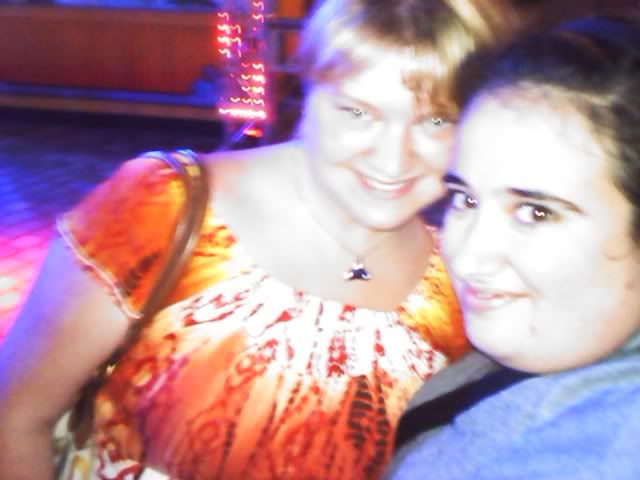 A hastily taken picture of Michele and me
We wrapped the night up early because we had check in on Monday morning. Check in was really easy. First, we all sat around waiting for the line to start at Vista Way. Around 8 am, the line started, and we all ran towards the back of the complex where the Disney team was waiting for us. We got in line, and Michele and I wound up near the front.
Some of my new friends waiting in line
As soon as we entered, they gave us little name tags and we filled out some paperwork. Then we entered a room where we picked our housing assignment. Michele and I had talked about just getting a one bedroom, but by the time we checked in, all the one bedrooms were gone. We wound up with a two bedroom at Vista Way, and boy are we glad! Anyway, after that, we turned in some paperwork, got our house keys, and got our apartment IDs made. Soon after that, we filled out our last forms and were briefed on how to take the bus to the Casting Center.
As soon as I could, I made a trip over to our apartment building to check out our living quarters. I wasn't sure what to think when I realized we'd be on the third floor, but as I started to look at the place from the outside, I realized we'd have a huge window and vaulted ceilings.
Our large window and lovely sofa
We had just enough time to put down our papers and head over to the Casting Center to find out our jobs and fill out all the pertinent paperwork. As you enter the facility, there are tons of gold statues of Disney characters. We went down a beautifully painted hallway and our jobs were revealed to us there. I was excited to find out that I will be working quick service food and beverage on Main Street U.S.A. in Magic Kingdom. I am so excited: Magic Kingdom has the best costumes! The Casting office was a whirlwind of paperwork and background checks and information about classes.
After the Casting Center, my friend Michael and I went to a seminar about Disney classes. They all look really great. As a CPer, you can take two classes per semester, so I will be taking the maximum workload. I just need to decide which classes to take. I will be making a more informative post about classes soon, I promise.
Finally, after that, I started to unpack. I also met my two other roommates, Kelly and Morgan, who are total sweethearts. So, now you're all up to speed. I hope you enjoyed reading this!